Princess Cays
Grand Cayman
Costa Maya
Cozumel
Ft. Lauderdale
04.06.2003-
04.14.2003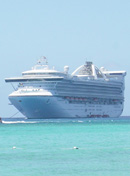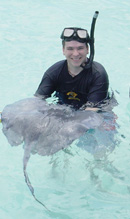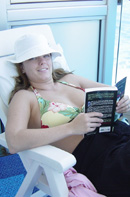 If you've never taken a cruise or traveled through the Western Caribbean, you must! For an entire week Rafi and I were fortunate enough to take a weeklong cruise on the Grand Princess, which left from Ft. Lauderdale, Florida and sailed through the Western Caribbean. Our room was exquisite with an outdoor private balcony, chocolates on our pillows every night, and the smallest bathroom imaginable!
Our first stop was the Princess Cays. Here we rode the Banana Boat ride (we didn't fall off, but the entire left side of the boat did!) and rented a paddleboat (which is quite a workout, we discovered, when you are paddling against the current). After some fun in the sun, we enjoyed a beachside BBQ. We also played the first of many losing games of Bingo.
The next day we spent at sea. Again we played losing games of Bingo, but the wonderful Vegas-like shows pepped our spirits. There was even a hypnotist who puppeteered his volunteers on stage. Hmm...maybe hypnosis for weight loss COULD work! This day was also formal attire night. We dressed up this night, but boy were we ready for some comfortable pj pants after all that eating!
Grand Cayman was our third day's destination. I can't begin to explain how beautiful the water is here - which still hardly justifies the cost of beachfront property there - $35 to 40K per square FOOT! We took a brief tour of the area that highlighted the town named Hell (due to it's magnificent lava rock formations), the Tortuga Rum Cake Factory (with free samples!), and my favorite, a turtle hatchery. I've never seen so many turtles in my life! After all that, we took a 30-minute boat ride out to a stingray sandbar and got to snorkel with the stingrays, which was amazing. We touched and held them, and I even got to kiss one! :)
Our fourth day took us to Costa Maya, near the town of Majahual in Mexico. There's not much there other than some shops and a VERY rocky beach with strong tides. Don't try to body surf there - trust me on this one. It'll result in some very scraped and bruised knees.
Our last destination was Cozumel, Mexico. We were very busy for a good part of the day in Cozumel. After waking up much too early for a vacation day, we set out for a ride across the island. Then we strapped ourselves onto a 4-wheeler (of course, Rafi REALLY enjoyed driving - the roads were EXTREMELY rough and rocky) and set off on our 9 mile trek to a wonderful pristine beach. Then we gathered our snorkeling equipment and kayaked a ways out to a barrier reef. We tied our boat to a buoy and began our snorkeling adventure. The water there is SO crystal clear, that we were told that on calm days, the visibility was up to 125 feet! We only snorkeled in depths of 30 feet or so, though, but we could see all the way down to the bottom. Colorful fish, coral, and other plant life were everywhere. After snorkeling, we kayaked back to the beach, ate a quick lunch, and rode our ATVs out to a Mayan ruin. Here we made our Mayan wishes and then continued our bumpy ride back to base. Our time in Cozumel was completed by some shopping. Then we worn out travelers went back to our ship and relaxed the rest of the day.
Our last day on board the Grand Princess was spent sleeping VERY late (as I said, we were very worn out from our Cozumel activities) and eating. The food aboard the ship is delicious and always available, so anytime there was a lag in activities, we ate...and ate...and ATE.
Our friends Marco and Pilar, who live in Ft. Lauderdale, picked us up after we sadly packed our things and disembarked. But they showed us around Ft. Lauderdale and let us stay in their beautiful townhome for the night. Of course, I crashed, but the guys stayed up playing FIFA. Go figure. ;)
And now we're home. And guess what? We're already researching our next cruise! ;)